Blueprint Coffee was opened by a group of coffee professionals and advocates in 2013. These founders (literally "members" in legalese) have been at the core of Blueprint Coffee's vision and day-to-day operations. Instead of trying to create a homogenous "about us" story, we thought it would be better to introduce you to each one of them personally and provide some insight into how they shape Blueprint.
---
Meet Nora Brady: the member leading Blueprint Coffee's wholesale process and partnerships. We spoke with Nora about her passion for coffee, finding herself in nature, and how she is navigating the specialty coffee industry to make it more inclusive and environmentally conscious. 
---
TELL ME ABOUT YOURSELF. WHERE ARE YOU FROM, AND HOW DID YOU GET INTO THE WORLD OF SPECIALTY COFFEE?
I grew up in Washington, Mo., and went to Stephens College in Columbia. I was studying fashion and costume design, but I wasn't sure exactly where I would take it. I got a job at Kaldi's while I was in school and fell in love with coffee through my exposure to the industry. I had two amazing trainers who were passionate about coffee, and it really opened the coffee world to me. I started doing barista competitions and placed well in my first year of competition. That's when I really felt like, "this is it."
HOW DID YOU BECOME INVOLVED WITH BLUEPRINT?
Around 2010, I left college and moved to St. Louis to continue competing and working at Kaldi's. That's where I met [fellow Blueprint members] Mike, Kevin, Mazi, Andrew, and then eventually Brian, and Blueprint Coffee began to evolve. We spent a lot of time and sleepless nights dreaming up the type of coffee experience we wanted to create.
HOW DO YOU DESCRIBE YOUR ROLE AT BLUEPRINT?
I first began with Blueprint as a retail leader and education lead. We only had a few employees during that first year of business, so all the members were extremely hands-on in the retail café and wore many hats. Now I am working as the Wholesale Director. Basically, this means I am responsible for maintaining relationships with customers, visiting our retail partners to make sure everyone is thriving, assisting with orders and sales, and bringing in new business.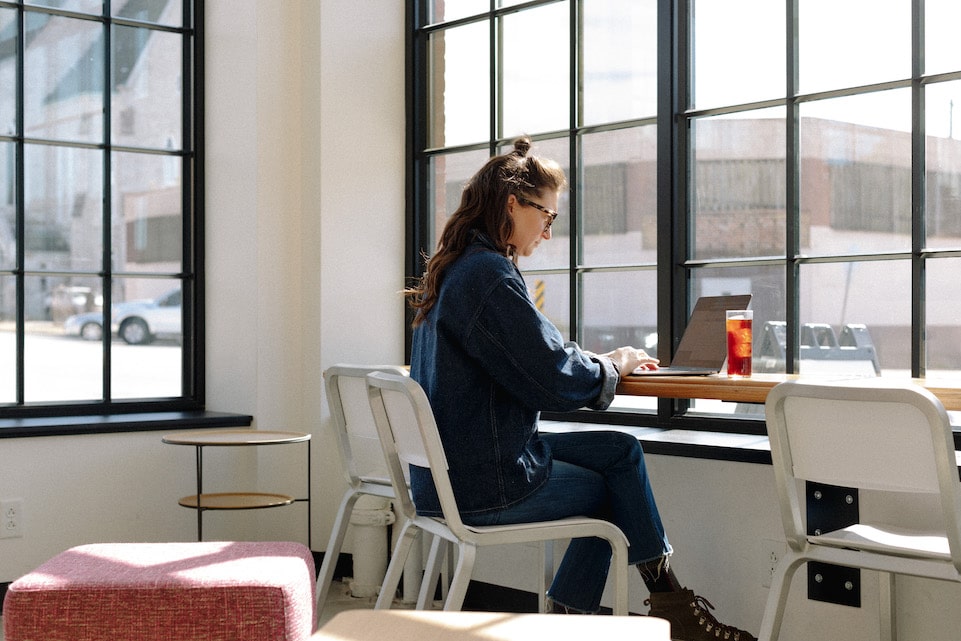 WHAT'S THE WHOLESALE PROCESS LIKE FOR YOU? WHAT DO YOU ENJOY MOST?
Right now, I'm really excited about growing the business. It's very fulfilling for me to support customers in their ventures — whether it is consulting for new businesses or onboarding new customers. It's also great to play a role in maintaining longstanding relationships that are so important to Blueprint. We are all about mutually beneficial relationships, such as our partnership with Half & Half, who was our first wholesale customer.
HOW HAS THE WHOLESALE PROCESS EVOLVED DURING THE PANDEMIC?
We saw a major, dramatic decrease in wholesale business in 2020 when the pandemic first began. But, during that time, we grew and sold more coffee than ever before because we had just launched a subscription program. Our business changed so much because people weren't going to cafés. Instead, we were sending individual 12-oz. bags to people in their homes. We missed seeing people in person, but it was so good to know we could still get high quality products into the hands of people we care about. Since then, the wholesale business has been busy and exciting. The wholesale market is better now than it was in 2019, and it's nice to be able to get out to see our partners around the city and the state again.
HOW DOES BLUEPRINT SHAPE ITS WHOLESALE PARTNERS IN STL AND OTHER CITIES?
Take Kansas City, for example, and the café we are partnered with there. This is a very saturated coffee market, and there are a few major roasters in the area. Our partner café is one of the few places you can get Blueprint Coffee in that city, and I think it is a big draw for them. They're offering something different that is unique in Kansas City. We love to see that.
Our goal, and my passion, is really to engage our local community in coffee and make it approachable and fun. We want to create a culture that is accessible and inviting. When we make a drink, we put our coffee first. By that, I mean every beverage on our menu is focused on the coffee, instead of masking it with added ingredients. Transparency is key to everything we do, and I think it's something unique we bring to the local coffee scene.
WHAT IS IT LIKE TO RUN A BUSINESS AS A GROUP OF MEMBERS?
It's awesome, and it is a lot of work! Both statements are true. There has been so much internal growth and development over the last 9 years between the members, and it's not always easy. Working with a team requires us to be vulnerable with each other, really dig in, listen, and collaborate. And in many ways, this is what makes us more successful. Everyone has their own strengths and areas for growth. We complement each other and work well together. Looking back, we have been able to get so much done. The presence we have now with three locations and wholesale is because we have so much thoughtfulness and commitment behind our ownership group.
YOU ARE THE ONLY WOMAN IN BLUEPRINT'S GROUP OF OWNERS. HOW DO YOU NAVIGATE THIS EXPERIENCE? HOW DOES THE CULTURE OF SPECIALTY COFFEE AFFECT YOU?
In my early coffee years, I was deeply involved in the specialty coffee industry at the national and international levels. I was invited to a women's forum and actively participating in discussions about "Women in Coffee." That time really opened my eyes to a ton of inequities of operating in a male-dominated industry. It was super discouraging to commit so much time and energy just to get to an equal playing field. I really just wanted to make damn good coffee without having to fight for a seat at the table. I got burnt out, and realized I needed to take a step back for my own wellbeing.
Facing inequity in any industry can be brutal, and it is not just something that has gone away. I continue to fight for my voice and ideas to be given equal opportunity. By doing so, I hope I can continue to shed light on the places we need to grow and open a door for other women and genders in the industry to do the same. There were times I felt tokenized as a woman in specialty coffee, but I'm happy gender equality and inclusivity in the specialty coffee industry has improved so much over the last 10 years. Now, I embrace my femininity and make time to care for myself, to maintain my wellness and joy in the world when I feel worn down.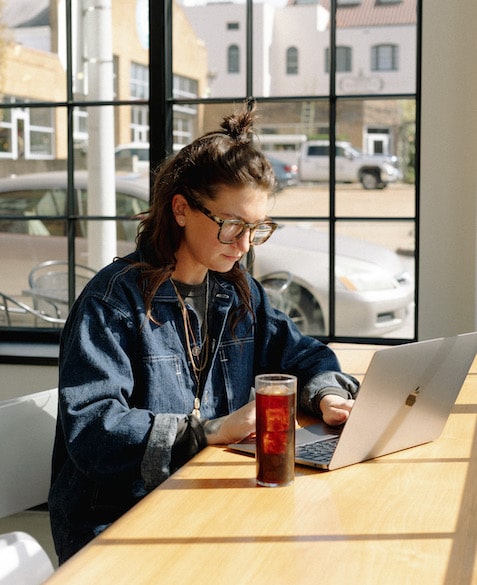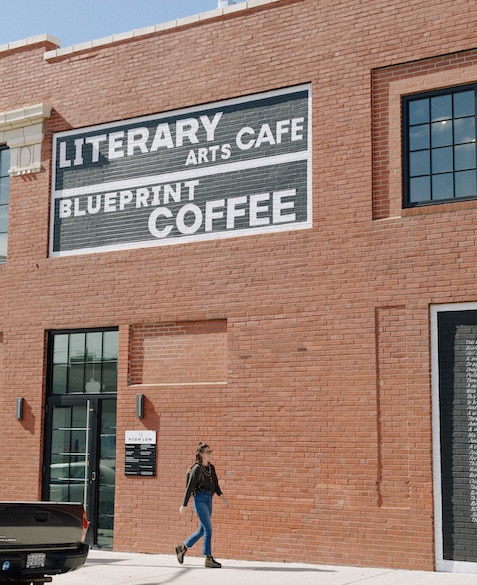 HAVE YOU HAD ANY MEMORABLE TRAVEL EXPERIENCES WITH BLUEPRINT?
I think the reason coffee stuck with me so hard and so fast in the beginning was its connection to the world. Coffee is such a worldly product. I grew up doing a bunch of international travel with my family and that was such an attractive thing about coffee — being able to bring all those experiences back home with me.
In 2015, Mazi and I traveled to Colombia together for 10 days. We visited a number of regions while we were there, searching for a coffee I would showcase at USBC nationals. It was such a special journey: traveling to Colombia, tasting the coffee at origin, meeting the farmers, and coming back to share their stories. An unforgettable experience all the way around.
WHICH BLUEPRINT LOCATION DO YOU FREQUENT THE MOST AND WHY?
I live on the south side, so Watson is closest to my house. That's where I go if I'm just grabbing a coffee. I absolutely love the staff and the vibe at Watson. They get creative with their menu offerings, and there is always something fun to taste. Plus, you can't beat the fresh, open air-y concept.
When I'm working, I'm mostly based out of Delmar. The roasting team is there, and that's definitely the hub of my work. Delmar is the O.G. café and will always hold a very special place in my heart because it feels like home.
High Low is so fresh and full of new possibilities — such a beautiful space to create and be inspired in. The staff there are working so hard to develop High Low into something totally unique. I'm excited to see what's possible there.
WHAT ARE YOUR HOBBIES AND OTHER PASSIONS OUTSIDE OF YOUR CAREER?
Hiking and camping! Really, anything outdoors. I am a single mom to my three-year-old son, and we like to get outside and play as much as we can. Also, I have always been into fashion and personal style as a mode of self-expression, and I have a lot of fun embracing this part of my creativity.
I actually left Blueprint for a while — I hiked the Appalachian Trail in 2016 and was able to do that because of the support of our ownership group. Taking some time away revitalized me. The entire journey took five and a half months of solo thru-hiking. I would hike 15-20 miles each day and stop in town about once a week to get supplies. It was absolutely the best thing I could have ever done for my self-confidence. Pushing my mind and body for so many months, day after day, was life changing. Living so raw and close to nature puts everything into perspective.
WHAT ARE YOUR FUTURE HOPES AND DREAMS FOR BLUEPRINT?
Personally, right now I am really interested in creating a sustainable parental leave program for our employees. I want this to be an easy and supportive place for people with children to work. It is rare for mothers, and especially mothers of young children, to work in the coffee industry.
I'm also really interested in prioritizing our sustainability goals and taking strides to look at what we are doing and how our carbon footprint can be smaller. Coffee is a product of the Earth, and we need to focus on how we can make sure coffee, the environment in which it is grown, and the people it sustains are still here in 30 years.
But let's be real, I am SO excited for our roasting operations to move into a new facility. We have more than outgrown our current situation, and we are ready for the expansion and increased capabilities to better serve our partners that will come with the move. I'm also really excited to see where some of our new and emerging partnerships will lead. Collaboration and creativity are central to what we do, and even though we have come so far, I really think the best is yet to come.