Worka – Legese Lemiso
$21.00 – $42.00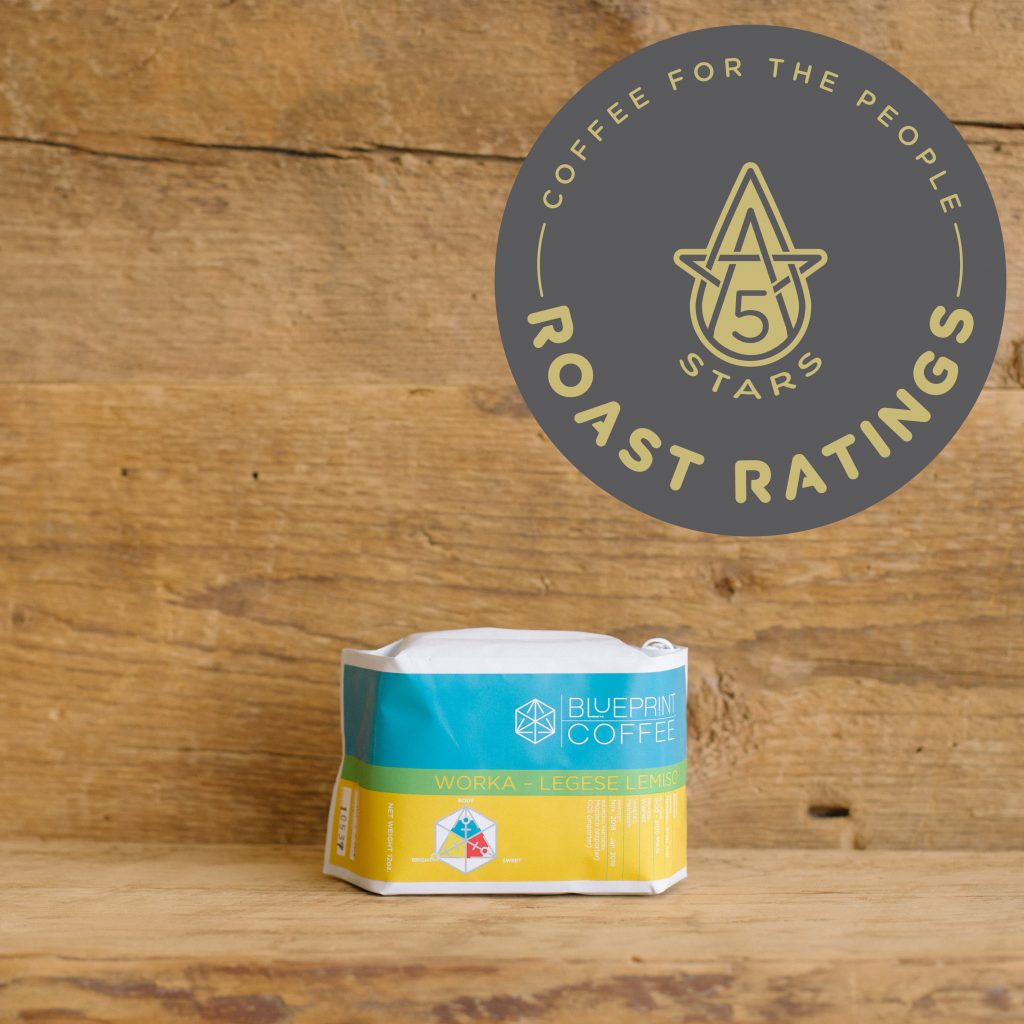 Worka – Legese Lemiso marks the annual return of single origin coffees from Ethiopia. Moplaco, our partner in Ethiopia, secured this coffee from the Legese Lemiso washing station in the West Arsi Zone. It exhibits the clean, bright, and juicy tones that define the best Ethiopian coffees.
LEGESE LEMISO
Small-holder farmers who own or rent small plots of land in the countryside grow most Ethiopian coffee. There, they pick coffee cherries from some of the most genetically diverse coffee trees on the planet. Ethiopia is home of Coffea Arabica. Therefore, Ethiopia distinguishes itself, in part, by the unique varieties available. In addition, many improved hybrid varieties (also unique to Ethiopia) have been bred from these natural (aka "landrace") varieties.
Once farmers have picked coffee, they must sell cherry to a station or cooperative. After that, it will be further processed and prepared for export. Legese Lemiso is a privately owned washing station in the Worka kabele (village) of Nensebo, West Arsi. The West Arsi Zone occupies an area to the south of the capital of Addis Ababa. It is just north of the famed Sidama and Guji zones. The centralized processing of coffee yields consistently good results in Ethiopia, but this approach limits traceability to individual farms. As a result, the name of the washing station, broad region, or cooperative identifies most single origin coffee from Ethiopia. For example, we call this coffee Worka – Legese Lemiso. So, we use the name of the kabele (village), Worka, in combination with the name of the washing station.
MOPLACO
Heleanna Georgalis made a challenging, yet brave decision to take over her father's exporting company, Moplaco, after his sudden passing. After returning to Ethiopia to run Moplaco in 2008, Heleanna dove into the world of coffee. She managed to keep Moplaco in business and improve upon a great model. Moplaco reestablished their reputation around their ability to source and then sort and export consistently amazing Ethiopian coffees. In more recent years, Moplaco built their own washing stations and invested in a farm. Moplaco's dedication to their full time staff and female leadership sets them way apart from other companies in Ethiopia. As a result, we identify Moplaco as a potential long-term partner in Ethiopia. We look forward to continuing our partnership with Moplaco. In late 2019 or early 2020, we plan to teach barista skills classes to Ethiopian women. Moplaco hosts these courses at their coffee bar in Addis Ababa.
THE COLLABORATIVE COFFEE SOURCE
Our relationship with The Collaborative Coffee Source began a little over two years ago. Early in that relationship, we were up front with their team. Initially, we let them know we desired more substantive relationships in Ethiopia. Their response was simple and direct. "Come to Ethiopia with us." So, in January 2018 we went. We visited Moplaco, who we'd sourced coffee from through CCS. We also traveled to Gedeo and Guji to meet new parters at Guji Highlands PLC and Snap Exporters. The trip fulfilled our goal of better understanding the Ethiopian coffee economy. In addition, we also gained insight into how we could position ourselves to be better partners in the future.
TEAM TASTE NOTES
lemon, orange, honey, caramel, lime, jasmine, apricot, creamy
ROAST RATINGS
Roastratings.com recently awarded Worka – Legese Lemiso 5-stars.
Country:

Ethiopia

Region:

Nensebo, West Arsi

Altitude:

1900 – 2100 MASL

Process:

Washed

Varietal:

Heirloom

Harvest:

Nov. 2018 - Jan. 2019

Sourcing Partners:

Moplaco (exporter), CCS (importer)
Worka – Legese Lemiso Cut Sheet

Download

(451K)