San Lorenzo – Instant Coffee
from $15.00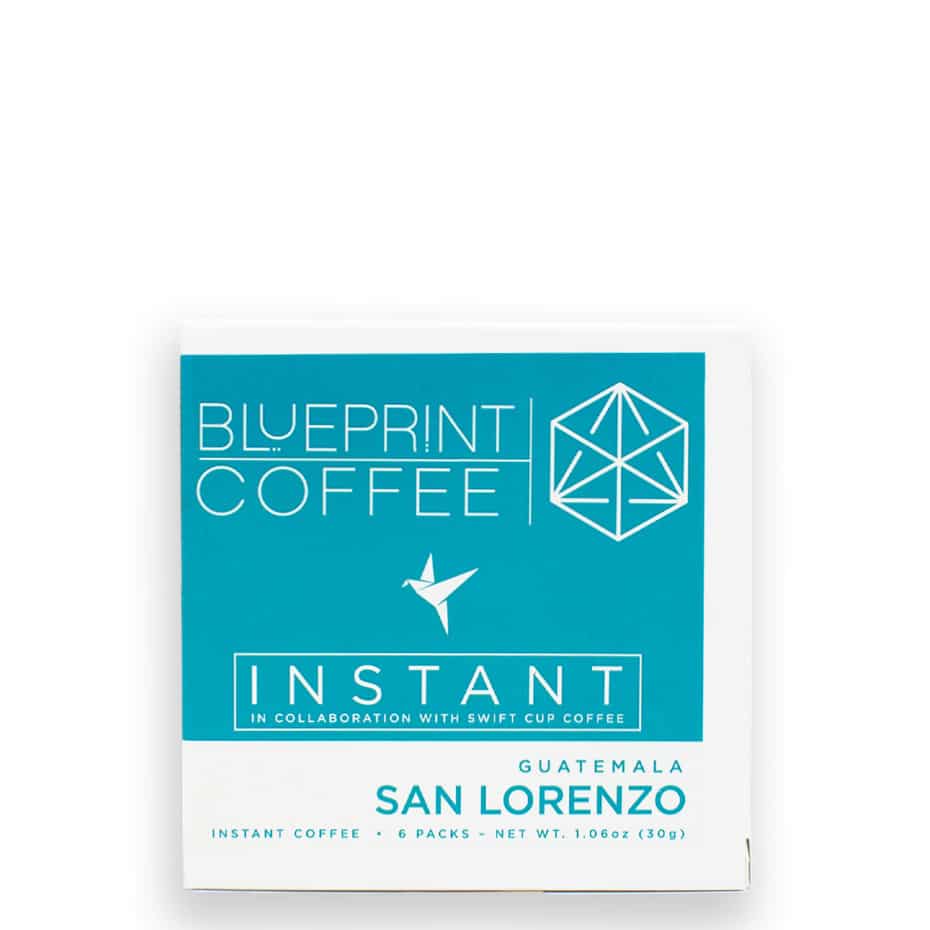 We're featuring traceable specialty coffee from San Lorenzo, Guatemala for our first release of Instant Coffee. We collaborated with Swift Cup Coffee to bring this offering to market. Just tear open a packet, mix it with about 10 ounces of hot or cold water, and stir. The resulting brew is the next best thing to a freshly brewed cup at one of our coffee bars.
Are you doing a double take at this product? That makes sense because most freeze-dried/instant coffee is absolutely terrible. That is because the worst of the worst coffee is used to make most of the products in the grocery stores. We have been tasting soluble coffee from other roasters and have been impressed with the results. Our R&D process was lengthy and we found the brewing and dehydration process used by Swift Cup offered the best representation of our coffees. 
The specialty instant San Lorenzo coffee from Guatemala is an amazing alternative to all those times when you can't get to a Blueprint Coffee Bar or you don't have your scale, dripper, and burr grinder with you. Some great situations for Blueprint Instant:
Camping
Smoothies
Cooking/Baking
Visiting your parents over the holiday…..(we see you 26-month-old can of store brand)
The office
A pack in the glove box for road trips
In your purse/bag for when you can't make it to the coffee shop before work
Tucked into a saddle bag to turn that water bottle into a cold brew along your century ride
On a long flight
Hotel rooms
ABOUT SAN LORENZO
We source San Lorenzo, this Guatemalan coffee, through our close partnership with Los Volcanes. They run a wet mill and quality lab in Antigua, Guatemala, which serves as an access point to for farms like San Lorenzo to many specialty coffee roasters throughout the world. The partnerships formed with farms around Guatemala are long lasting, equitable, and rooted in transparency. This coffee, from the cloud forest in Cobán offers sweet, nutty, citrus, stone fruit, and earthy qualities.
SOURCING NOTES ON SAN LORENZO
The complexity and coordination in achieving good cup quality fascinates us, especially when a farm grows 80 hectares (198 acres) of coffee. When harvest starts, the floodgates open. Coffee doesn't wait. It needs to be harvested. It needs to be pulped, and it needs to be dried. All of these steps require consistency and precision in order to deliver a good product to the market. These steps define specialty coffee. They require people and teamwork to perform these intense tasks.
Understanding the complexity of coffee farming is important in understanding the quality achieved at San Lorenzo Estate in the Cobán region of Guatemala. The star players that make this coffee stand out are Luis "Wicho" Valdez III and the amazing system and talent of Carolina Franco with Los Volcanes.
Humidity with constant rainfall constitutes Cobán's climate. This increases the difficulty of processing and maintaining coffee quality. As soon as a coffee is picked, the following stages play a role in removing moisture from the coffee. If done too quickly, the flavor becomes very woody. If done too slowly and with poor management, it becomes moldy, over-fermented, and phenolic. So, Wicho uses multiple approaches to process and dry the coffee from this cloud-blanketed forest farm.
THE ROLE OF LOS VOLCANES
Los Volcanes supports his work with real time feedback from Carolina Franco – a literal and figurative cupping champion. Carolina finished fourth in the world in 2011 and fifth in the world in 2013. To assist with production quality, Carolina provides feedback to Wicho and all the farmers supported by Los Volcanes. This feedback helps farmers improve cup quality as they get further into the harvest. She also catalogues the nuances of the multiple harvests that arrive from the farm in order to build lots that are unique to Cobán.
Specialty coffee, by necessity, is a highly collaborative commodity. The detail and hard work necessary to serve a cup to you is fascinating to us. This is why we love the people we work with and sharing this experience with you. Because when all things align, it is special.
TEAM TASTE NOTES
walnut, orange, plum, molasses, earthy
Country:

Guatemala

Region:

San Cristobal, Cobán

Altitude:

1400 – 1500 MASL

Processes:

Washed, Freeze Dried

Varieties:

Caturra, Catuai, Bourbon, Sarchimor, Obata Tupi

Harvest:

November 2018 – April 2019

Farm Relationship Length:

1st Harvest

Sourcing Partners:

Los Volcanes (exporter), Royal Coffee N.Y. (importer), Swift Cup (instant manufacturer)
This product does not currently have any downloads.