Primary Series: Red – Instant Coffee
$23.00 – $108.00
TASTE NOTES
apple, berry, dense body, fruity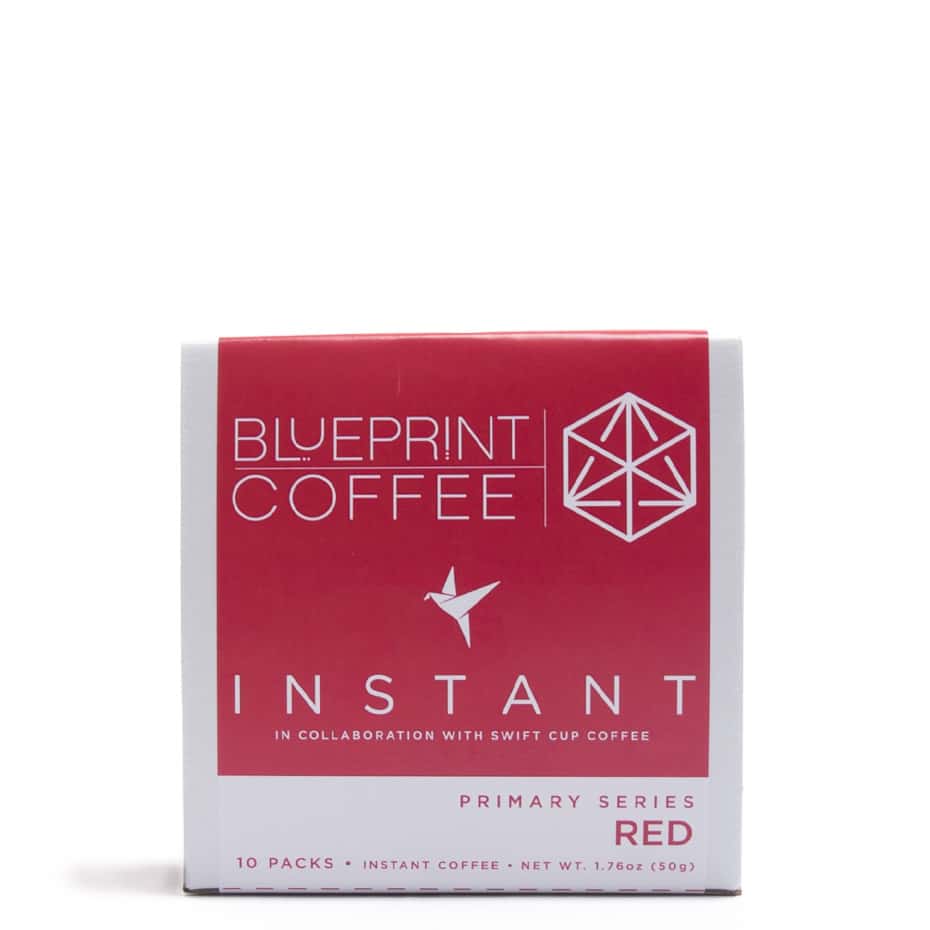 The feedback on our instant coffee, introduced in 2020, has been glowing, so we've decided to expand our offerings with the introduction of our first instant blend, Primary Series: Red. We collaborated with Swift Cup Coffee to bring this offering to market. Just tear open a packet, mix it with about 10 ounces of hot or cold water, and stir. The resulting brew is the next best thing to a freshly brewed cup at one of our coffee bars.
Are you doing a double take at this product? That makes sense because most freeze-dried/instant coffee is absolutely terrible. That is because the worst of the worst coffee is used to make most of the products in the grocery stores. We have been tasting soluble coffee from other roasters and have been impressed with the results. Our R&D process was lengthy and we found the brewing and dehydration process used by Swift Cup offered the best representation of our coffees. 
SIZES, FORMATS, AND BUYING FREQUENCY
10-pack, 25-pack, and 50-pack boxes contain individually packaged servings in biodegradable sachets. Just rip one open and pour into a cup. Add your liquid, mix, and stir.
(We're discontinuing the 100g jars of instant coffee as they cost more, are prone to spoilage, and are made of plastic. The sachets are made of Biotre compostable material.)
The specialty instant Primary Series: Red is an amazing alternative to all those times when you can't get to a Blueprint Coffee Bar or you don't have your scale, dripper, and burr grinder with you. Some great situations for Blueprint Instant:
Camping
Smoothies
Cooking/Baking
Visiting your parents over the holiday…..(we see you 26-month-old can of store brand)
The office
A pack in the glove box for road trips
In your purse/bag for when you can't make it to the coffee shop before work
Tucked into a saddle bag to turn that water bottle into a cold brew along your century ride
On a long flight
Hotel rooms
ABOUT PRIMARY SERIES: RED
Red brings the fruit-forward and dense quality of some of the most unique specialty coffees to our Primary Series. Featuring a profile reminiscent of the coffee cherry, Red is a delightful option with or without milk. 
To achieve a concentrated fruit flavor, Red features naturally processed coffees. This involves sun-drying the harvested coffee cherry before separating the fruit from the seeds, which will eventually become coffee beans. This ancient processing method is known to result in a cup with syrupy body and the intensity of berry fruit. With the intentionality practiced by specialty coffee producers, this method has become immensely popular among coffee fanatics in the last decade. 
Red is one of our three Primary Series of blends — a nod to the primary colors of red, yellow, and blue. Much like these three colors are the building blocks of art, our Primary Series represents three essential coffee flavor profiles:
• RED is ideal for filter brewing or espresso, with deep fruity tones of cherry, berry, and apple and a syrupy body.
• YELLOW features citrus and floral notes and a crisp, light body that is well-suited for filter brewing or French Press.
• BLUE is full-bodied and intended for cold brew or filter brewing, with notes of caramel and chocolate.
TEAM TASTE NOTES
apple, berry, dense body, fruity
Countries:

Ethiopia, Guatemala, Mexico, Colombia

Regions:

Shakkiso, Suchitepequez, Chiapas, Nariño

Processes:

Natural (Ethiopia & Guatemala) and Washed (Mexico & Colombia)
This product does not currently have any downloads.