Norikori, Papua New Guinea
$21.00 – $42.00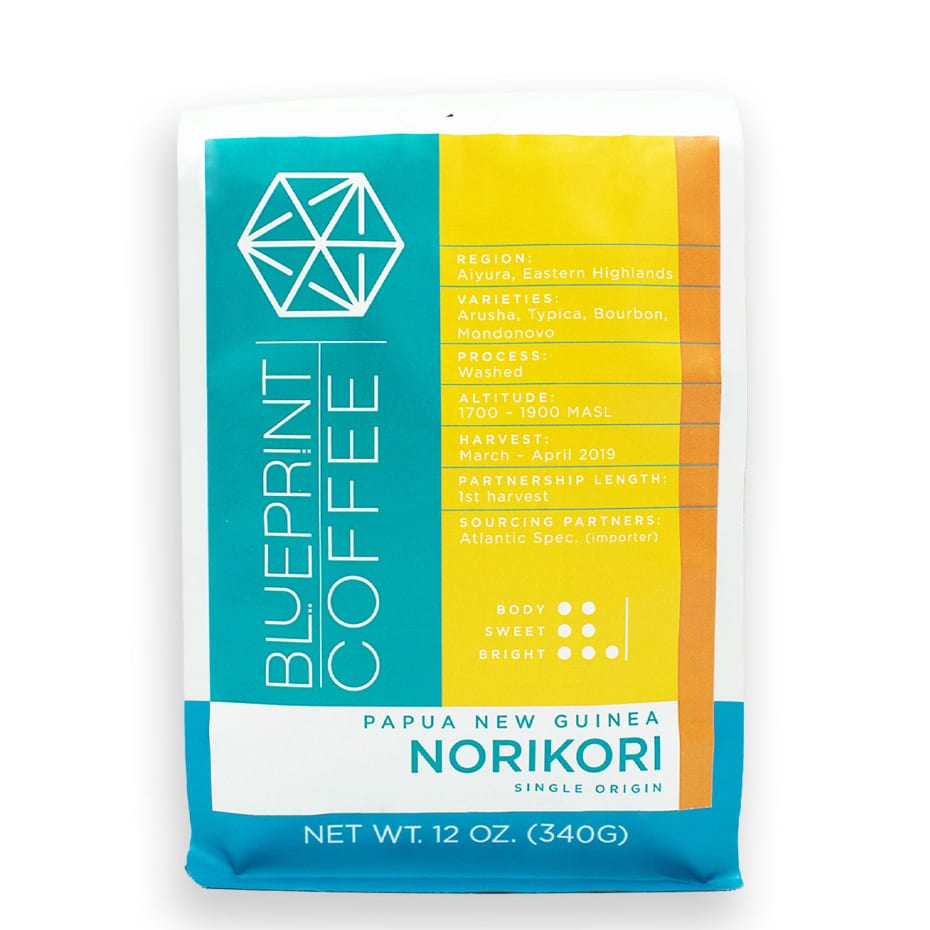 Norikori, Papua New Guinea originates from a community of around 200 farmers. They grow coffee around the village of the same name in the Papua New Guinea's Eastern Highlands. The coffee operations of the Colbran family started, and continue to operate, not far from this small village. The work of the Colbrans, the terroir of the Eastern Highlands, and the farming of this community collaborate to create a truly explosive and exciting coffee.
PAPUA NEW GUINEA
Papua New Guinea boasts of only one generalization – there are no generalizations. Its people speak 800 different languages. Many of its neighboring communities remain completely isolated from each other. As a result, Papua New Guinea remains one of the most remote and culturally diverse places in the world. In addition, travel to and within the country remains challenging. However, these obstacles did not stop the Colbran family from establishing one of the few truly successful coffee milling and exporting establishments in Papua New Guinea.
THE COLBRAN FAMILY
In 1965, the government of Papua New Guinea started promoting coffee growing. So, the Colbran family transitioned their farm from traditional crops to coffee. In 1997, they decided to reinvest in the estate they had grown and expand their work to the surrounding community. Namely, they opened access to the specialty coffee market for local farmers. As a result of the success, the community constructed schools and maintaned roads.
After expanding their operations to the community, they then organized a traceability system with farmers. Additionally, they established a rigid quality-control system. Traceability allows the mill to reward the specific farmers from whom they are purchasing cherry or parchment based on the coffee's final quality. The quality-control system fosters relationships by allowing the Colbrans to provide relevant feedback to the local farmers. This feedback promotes the rewards of specialty coffee to farmers that would have typically sold to the traditional markets. Not only has this system proven to be successful, but it has also broken another generalization about Papua New Guinea. Coffees like Norikori break the expectation that cup quality from Papua New Guinea is frequently earthy, wild, and inconsistent. This harvest of Norikori triumphs with tropical fruit flavors that are supported by a balanced and molasses sweetness. Therefore, this coffee create a truly unique experience.
TEAM TASTE NOTES
pineapple, apricot, orange, chocolate, peach, juicy, floral, lemon, brown sugar
Country:

Papua New Guinea

Region:

Aiyura, Eastern Highlands

Altitude:

1700 – 1900 MASL

Process:

Washed

Varietal:

Arusha, Typica, Bourbon, Mondonovo

Harvest:

March – April 2019

Relationship Length:

1st harvest

Sourcing Partners:

Atlantic Specialty (importer)