Las Moritas
$23.00 – $46.00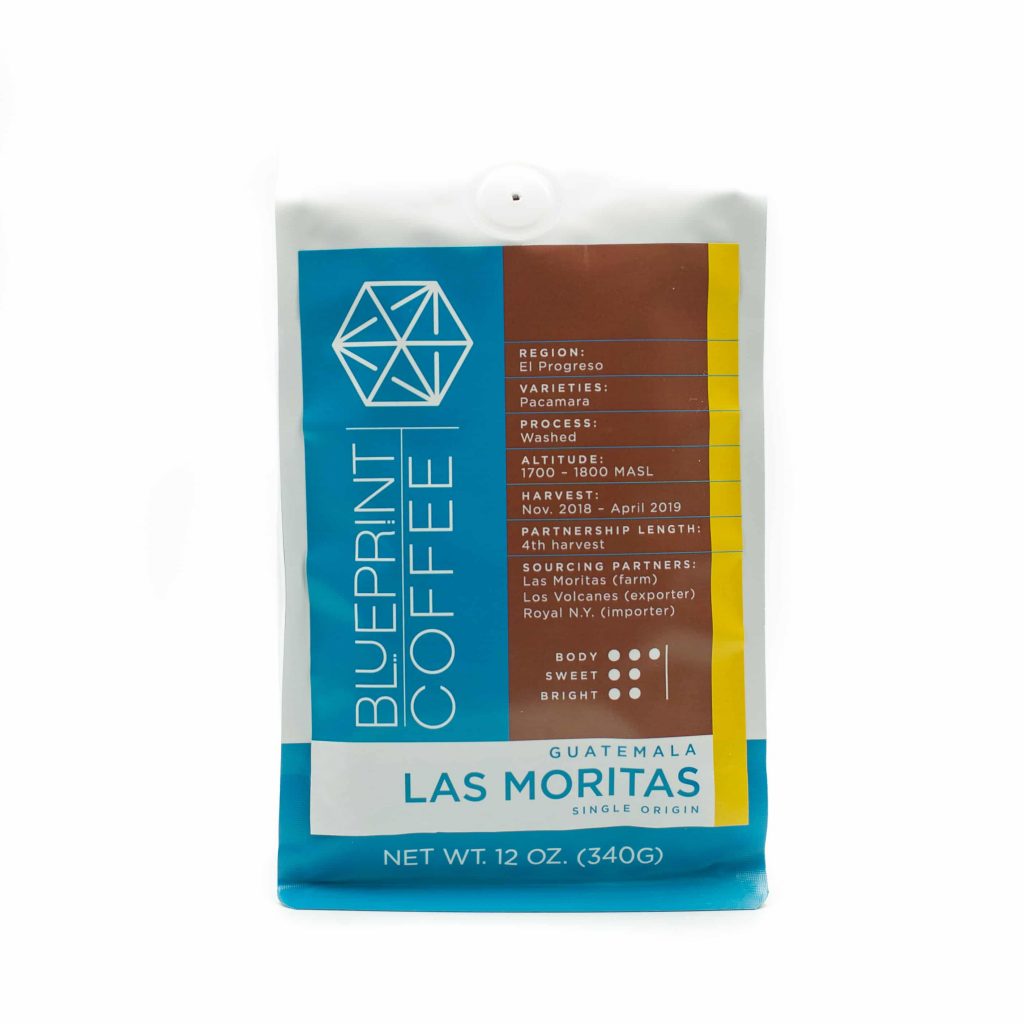 Blueprint first offered coffee from Las Moritas, Guatemala in 2016. Don Higinio, and his wife Doña Aura, run the farm in Progresso. The arrival of this coffee every year gives us excitement. Don Higinio and Doña Aura established Las Moritas in 1988 from the savings they earned growing tomatoes. They started with one hectare. Now, they have grown a farm and a coffee community in the department of El Progreso, Guatemala. Their farm now covers 126 hectares. Fifty-six hectares are dedicated to coffee and the remaining 70 hectares are dedicated to native forest and agro-forestry crops like avocado.
A few years ago, Josué Morales of Los Volcanes showed me "his babies." He meant a new planting of Pacamara coffee trees situated on an eastern-facing slope at Los Moritas. The slope provides a great microclimate for the Pacamara since the western side is prone to high winds in the evening that can damage the trees. In contrast, this nestled niche is very different than the Cobán region of San Lorenzo. Cobán rains heavily and constantly. Instead, this area is like a high alpine with pine trees.
The Salvadoran Institute of Coffee Research (ISIC) in El Salvador crossbred the Paca (bourbon mutation) and Maragogype (typical mutation) varieties. As a result, the Pacamara variety was born.
This is a very late coffee harvest for Guatemala due to the high altitude and microclimate at Las Moritas. As a result, it is just becoming available in our lineup in December. Typically, we usually start to taste Guatemalan options in February to April. Most of the Guatemalan harvest finishes in January or February to provide a reference. So, this is usually our last Guatemalan offering of the year. In late summer we' start seeing new lots arrive by Don Higinio and Los Volcanes Coffee.
TEAM TASTE NOTES
cocoa, malt, fig, plum, pineapple, cinnamon, heavy, orange
Country:

Guatemala

Region:

El Progreso

Altitude:

1700 – 1800 MASL

Process:

Washed

Varieties:

Pacamara

Harvest:

Nov. 2019 – April 2019

Relationship Length:

4th Harvest

Sourcing Partners:

Las Moritas (farm), Los Volcanes (exporter), Royal Coffee N.Y. (importer)