Kawo Kamina – Processing Styles Box
$50.00
** ORDERS ARE ONLY ROASTED ONCE A WEEK. SEE FULL DESCRIPTION FOR DATES **
EACH BOX INCLUDES
8oz Whole Bean Washed Process Beans + Cut Sheet
8oz Whole Bean Natural Process Beans + Cut Sheet
8oz Whole Bean Anaerobic Natural Process Beans + Cut Sheet
Screen-printed Sample Box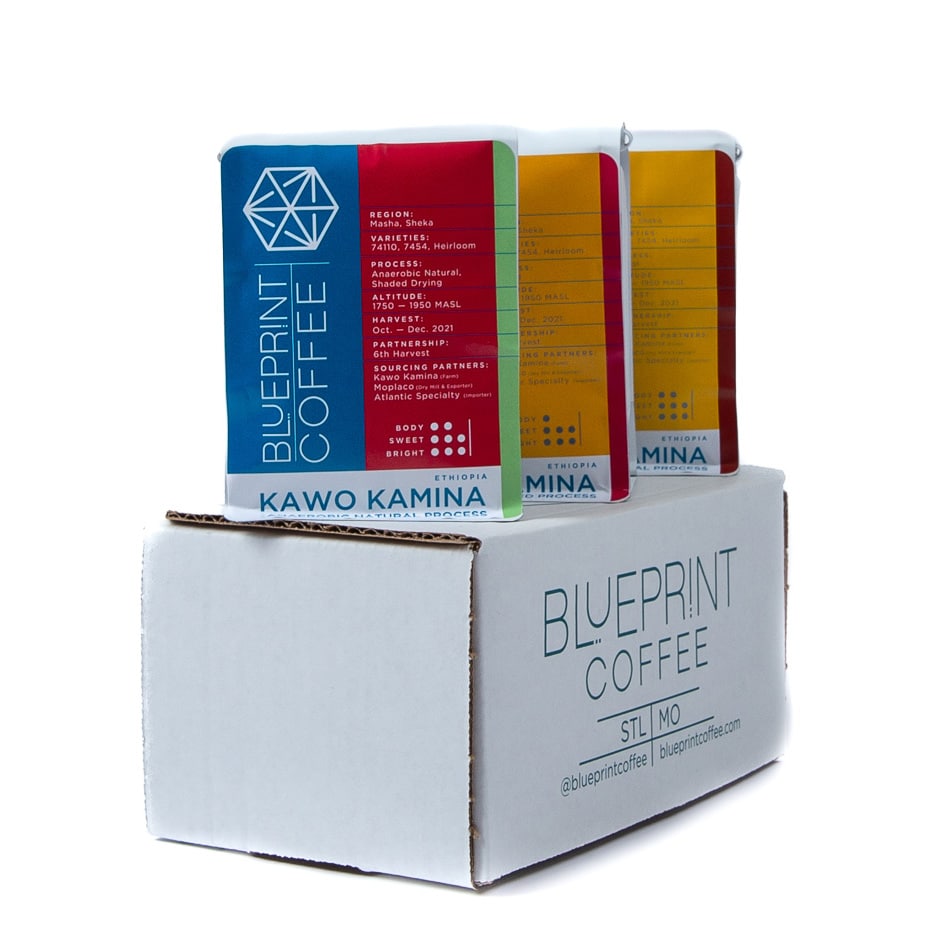 Enjoy three unique processing styles from the same farm in Western Ethiopia with our limited-run Kawo Kamina Processing Styles Box. This special offering is a chance to explore how processing affects the taste qualities of coffee.
From Kawo Kamina's harvest at the end of 2021, we sourced three processing styles.
Washed

At our request, Moplaco's team produced a washed lot of coffee large enough for us to feature as a single-origin offering. This was no easy task, as the farm's washing station infrastructure hasn't been completed. To create this lot, the team first sorted fresh-picked coffee cherries by hand and by floating. Then, they passed the cherries through a hand-cranked depulper to remove most of the coffee fruit. Next, the coffee seeds were soaked in water for approximately 36 hours. After this soaking period, the remaining fruit and mucilage were washed off the seeds. Finally, the seeds were dried on raised beds. This process creates a cup with a delicate body and a delightful floral, lemon, and raspberry aroma.

Natural

Most of the coffee at Kawo Kamina is processed using the traditional "full" natural style. In this method, cherries are picked from the tree, sorted by hand and by floating, and then set out on raised beds to dry. Over the course of three to four weeks, the cherries are turned frequently during the day to avoid uneven drying. At night, they are covered with tarps to protect them from rainfall or morning dew, as the moisture would counteract the drying process. The fermented and wine-like flavors often associated with the natural method are not present in this year's lot – a testament to the careful processing and sorting done at the farm and the dry mill. Instead, the cup features a maple aroma with melon, citrus, black tea, and floral notes in the cup. The body has a soft, silky texture that reminds us of powdered sugar.

Anaerobic Natural

Kawo Kamina's processing area features a large stainless steel tank – similar to fermentation tanks used by beer breweries. For this special anaerobic processing method, the coffee cherries are picked, sorted by hand and by floating, and then put into the stainless steel tank to ferment for 72 hours in an oxygen-free environment. Next, the coffee cherries are moved to shaded and partially-shaded beds to dry over the course of 30 days. This extra anaerobic fermentation period and extended shaded drying time brings more berry and jammy sweetness to the cup, along with intense kiwi-like acidity and a juicy body. 
Six years ago, we bought a delicious coffee from southern Ethiopia that was milled and exported by Moplaco. Over the course of the next year, we would come to meet Heleanna Georgalis, owner of Moplaco, and visit her facility in Addis Ababa. That initial meeting showed us a company committed to intentionality and its people. Since that time, Moplaco grew their operations to include more washing stations and a farm called Kawo Kamina in western Ethiopia, the birthplace of Arabica coffee.
At Kawo Kamina, Moplaco's staff works year-round to nurture their farm of semi-forest coffee. Since starting the farm, most of the coffee has been natural processed. With our encouragement, they also began producing washed lots of coffee over the last two years. In addition, they added experimental processing and honey processing at the farm. We're excited to bring you three unique processes from Kawo Kamina this year. These three offerings are very similar apart from the processing technique, highlighting the subtle differences provided by each method. We see this as a testimony to the work Moplaco does – processing and sorting coffees so carefully that only the true taste of the seed remains. We approach roasting in a similar way. We try not to impart a noticeable "Blueprint" taste, instead featuring the beauty and natural flavors within each seed.
Each sampler box includes:
(3) bags whole-bean coffee (one of each process), weighing 8 oz. each. Enough for 9-10 brews (12 fl. oz. each).
(3) cut sheets that include information about each coffees.
(1) screen-printed box. Keep it and use it to stylishly store anything around the house.
This is a limited-edition run – we will be roasting once per week through December 23. Orders for the sampler box will be roasted on the next roast date AFTER the day the order is placed. Our planned roast dates are:
Friday, November 18
Monday, November 28
Friday, December 2
Friday, December 9
Friday, December 16
Friday, December 23
The processing styles box is only offered as whole bean coffee.
Country:

Ethiopia

Region:

Masha, Sheka

Altitude:

1750 – 1950 MASL

Process:

Washed, Natural, Anaerobic Natural

Varieties:

74110, 7454, Heirloom

Relationship Length:

6th Harvest

Sourcing Partners:

Kawo Kamina (farm & station), Moplaco (dry mill & exporter), Atlantic Specialty (importer)
This product does not currently have any downloads.