Gallito, Peru – Instant Coffee
from $24.00
TASTE NOTES
stone fruit, orange blossom water, brown sugar, candied, apple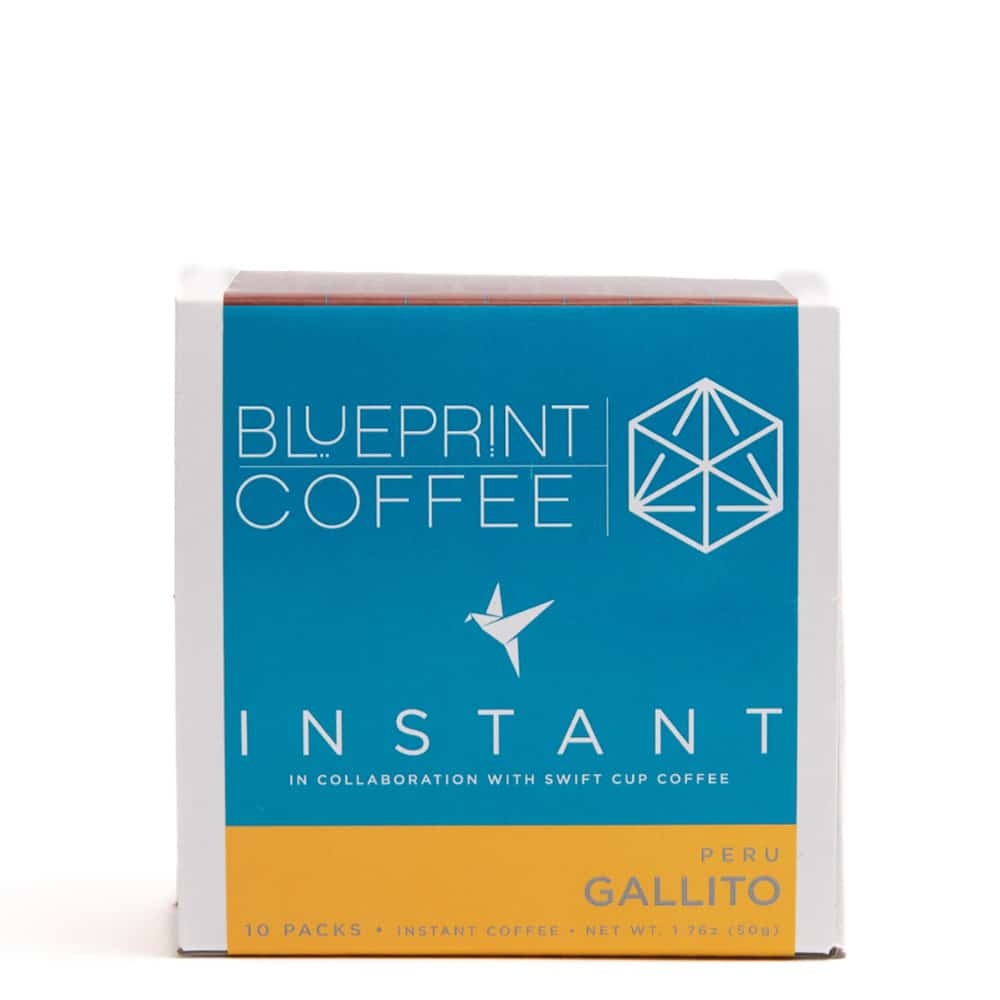 The feedback on our instant coffee, introduced in 2020, has been glowing, so we've decided to expand our offerings with the a rerelease of one of our favorite coffees: Gallito, Peru. We collaborated with Swift Cup Coffee to bring this offering to market. Just tear open a packet, mix it with about 10 ounces of hot or cold water, and stir. The resulting brew is the next best thing to a freshly brewed cup at one of our coffee bars.
Are you doing a double take at this product? That makes sense because most freeze-dried/instant coffee is absolutely terrible. That is because the worst of the worst coffee is used to make most of the products in the grocery stores. We have been tasting soluble coffee from other roasters and have been impressed with the results. Our R&D process was lengthy and we found the brewing and dehydration process used by Swift Cup offered the best representation of our coffees. 
SIZES, FORMATS, AND BUYING FREQUENCY
10-pack, 25-pack, and 50-pack boxes contain individually packaged servings in biodegradable sachets. Just rip one open and pour into a cup. Add your liquid, mix, and stir.
(We're discontinuing the 100g jars of instant coffee as they cost more, are prone to spoilage, and are made of plastic. The sachets are made of Biotre compostable material.)
The specialty instant Primary Series: Red is an amazing alternative to all those times when you can't get to a Blueprint Coffee Bar or you don't have your scale, dripper, and burr grinder with you. Some great situations for Blueprint Instant:
Camping
Smoothies
Cooking/Baking
Visiting your parents over the holiday…..(we see you 26-month-old can of store brand)
The office
A pack in the glove box for road trips
In your purse/bag for when you can't make it to the coffee shop before work
Tucked into a saddle bag to turn that water bottle into a cold brew along your century ride
On a long flight
Hotel rooms
ABOUT GALLITO, PERU
Coffees from Peru's Cajamarca region (pronounced ka-ha-mark-ah) are always something we look forward to in ourlineup. The quality of Peruvian coffee has evolved tremendously in recent history through the development of mutually beneficial relationships between smallholder farmers and collaborators. We've been impressed by the coffee fromthe Gallito de las Rocas producer group over the past two years. This year, we committed to this coffee early in harvest because it has shown such consistency and quality.
Gallito de las Rocas is a small producer group located in a fairly remote area of Cajamarca. Exporter Origin Coffee Lab works directly with producer groups in Peru through their Solidario program (in English, Solidarity). OCL started Solidario to give producers access to training, financing, and feedback about coffee quality. These and other improvements garner better quality and higher prices going back to the producers.
This coffee is a washed process. Drying is a meticulous task which must be done carefully, due to the region's unique climate. Cajamarca experiences near-constant rainfall from October through March, with a mix of warm air currents meeting with cool air descending from the mountains. Coffee is
dried underneath a shade and covered at night to help combat humidity and achieve a final moisture content of nine to eleven percent.
We hope you will enjoy the fruits of this collaboration between the farmers of Gallito de las Rocas and Origin Coffee Lab. Its sweetness is reminiscent of stone fruit and apples, with notes of brown sugar.
TEAM TASTE NOTES
stone fruit, orange blossom water, brown sugar, candied, apple
Country:

Peru

Region:

Cajamarca

Altitude:

1700 – 1960 MASL

Process:

Washed

Harvest:

June – October 2021

Varieties:

Catimor, Typica, Caturra

Partnership Length:

2nd Harvest

Sourcing Partners:

Atlantic Specialty (importer), Origin Coffee Lab (exporter)
This product does not currently have any downloads.