Ejo Heza, Rwanda
$20.00 – $40.00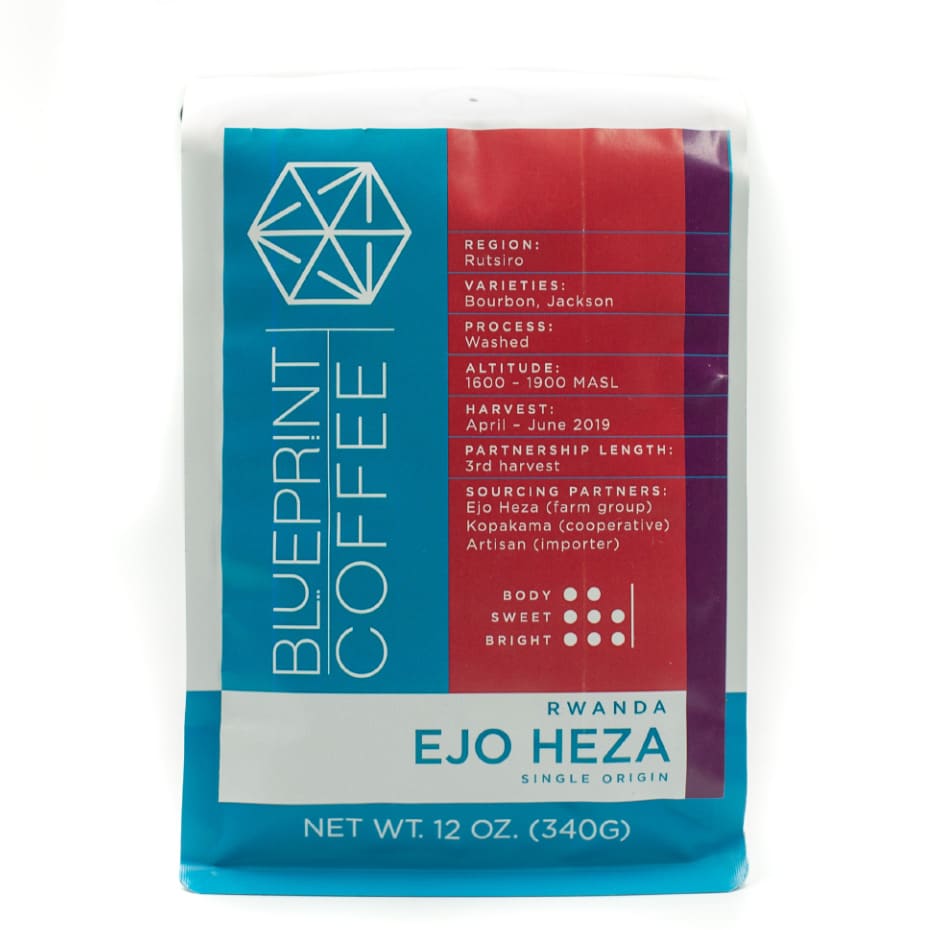 Our third collaborative coffee harvest from Rwandan cooperative Ejo Heza dazzles with complex acidity and notes of baking spice, dried fruit, butterscotch, and citrus. We wrapped up the 2018 harvest not long ago. However, due to growing efficiencies at Kopakama, we've already received the 2019 harvest. The new wet mill and a bit of luck surely aided the quick transit. We look forward to roasting it for you.
COFFEE IN RWANDA
The leadership of Paul Kagame transformed my expectations of Rwanda. Paul Kagame, the leader of the RPF (Rwandan Patriotic Front) and current president, reformed a people, a government, and an economy after the Genocide in 1994. Today, the stabilizing force and the efforts to reign in corruption are palpable everywhere one goes. In addition, they encourage a nation to heal and progress. Collective belief in progress, and hope in the future is the current ethos of the people of Rwanda. In large part, this is due to Kagame's leadership.
What does this have to do with coffee? For Rwanda, coffee is the main building block of their economy. As the main export, Rwanda is trying to utilize coffee export in two ways. First, to become one of the best specialty coffee growing regions in the world. Second, to use coffee as a means of bringing other economic opportunities and interest into the country.  Everyone at Kopakama and Ejo Heza is committed to the learning, work, and development needed to participate in this goal. Ejo Heza is a Rwandan coffee sub-cooperative within Kopakama. They collectively work test plots that serve to teach them about new farming methods. Kopakama field instructors teach pruning techniques, harvesting ripe cherry, and composting methods tp Ejo Heza members. This supports the health and quality of the cherry. The instructors host and teach the visits at the Ejo Heza test plots to support this work.
EJO HEZA + ARTISAN IMPORTS + BLUEPRINT
This is also where Blueprint is working directly with Kopakama's leadership and field officers. We help them restore soil that has been mismanaged and devastated for many years. To this end, we have established a collaborative effort between Soil Food Web, Artisan Coffee Importers, and Kopakama. We support the effort, with expertise and premiums, to have their field officers learn biological evaluation of soil and compost management techniques. In turn, Artisan helps Blueprint Coffee to communicate and establish fair pricing structures to support the work. As a result, this contributes to soil health, reduces the demand for commercial fertilizers, and helps farmers protect their soil from erosion.
TEAM TASTE NOTES
apricot, peach, lemon, creamy, tropical, lemon, spice
Country:

Rwanda

Region:

Rutsiro

Altitude:

1600 – 1900 MASL

Process:

Washed

Varieties:

Bourbon, Jackson

Harvest:

April – June 2019

Sourcing Partners:

Ejo Heza (farm group), Kopakama (cooperative), Artisan Coffee Imports (importer)