Decaf Cauca, Colombia
$17.00 – $34.00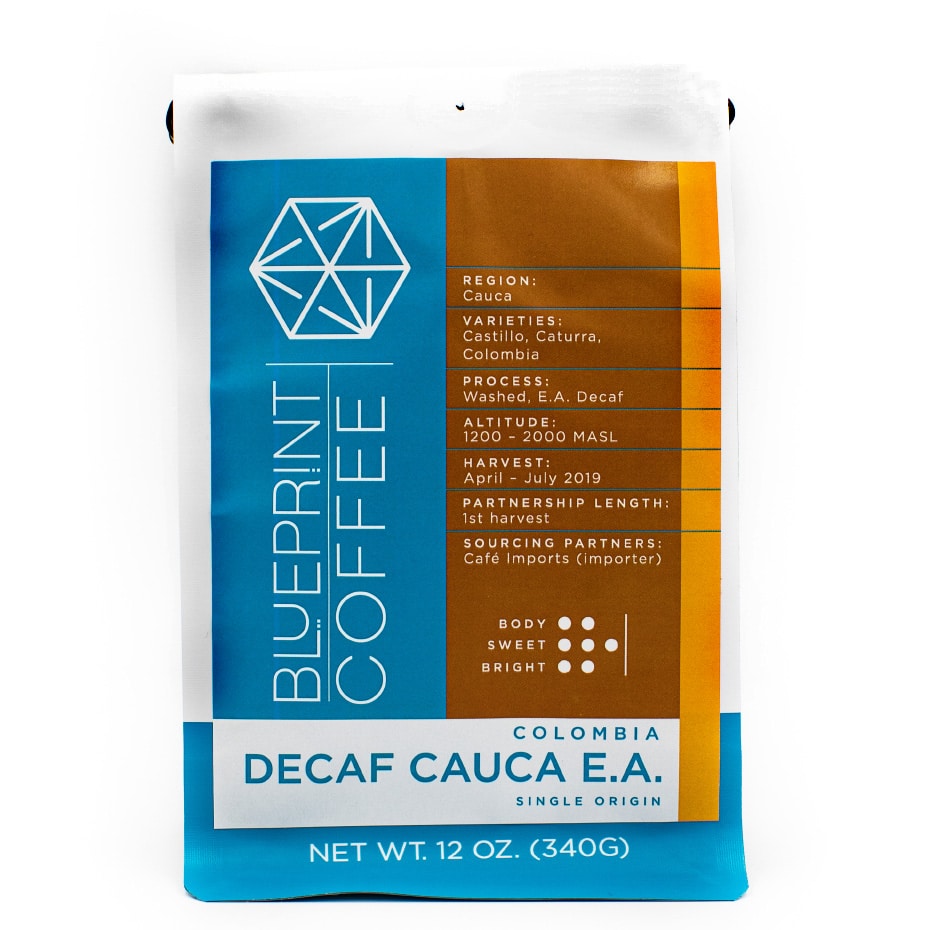 **DUE TO LOW DEMAND FROM THE CORONA VIRUS PANDEMIC, WE ARE NOT ROASTING DECAF TO ORDER. INSTEAD, WE WILL BE ROASTING IT APPROXIMATELY ONCE PER WEEK AND WILL SEND OUT DECAF ORDERS WITH THE FRESHEST BATCH POSSIBLE**
Decaf Cauca E.A., Colombia comes to us from the southwestern coffee growing region of Cauca, Colombia. Our importer, Café Imports, cups and assembles regional lots of coffee throughout Colombia. In addition, they specifically target lots for decaffeination. Then, they send the lots to a decaffeination plant in country to be decaffeinated. This minimizes aging due to time and carbon production from transit.
The facility in Colombia decaffeinated the coffee using ethyl acetate (E.A.) derived from locally-grown sugarcane. Traditionally misunderstood, the coffee industry casts a negative light on the decaffeination process. It is, in fact, a decaffeination process quite similar to most, and one we have found to leave the coffee tasting the best.
The fermentation process creates ethyl acetate, an organic compound. While it can be derived during grape fermentation, sugarcane is a much more ample source in Colombia.
The process to decaffeinate starts with an application of steam to the green seeds. Next, the decaffeination facility adds hot water, which allows the seeds to enter hydrolysis. In this phase, water interacts with compounds and causes them to break free. Then, they add ethyl acetate to the water, which is a solvent of caffeine. The solution passes through the beans until all but trace amounts of caffeine remain. Once decaffeinated, the facility flushes the seeds with a low pressure steam that removes the ethyl acetate. If omitted, a fruity taste from the ethyl acetate would remain. Lastly, the plant vacuum drys the coffee back down to a standard level of 10-12% moisture. The Decaf Cauca EA coffee leaves Colombia at 5ppm or lower ethyl acetate concentration. The roasting stage easily removes this amount.
TEAM TASTE NOTES
banana bread, brown sugar, toffee, baking spice, pineapple, strawberry, orange
Country:

Colombia

Region:

Cauca

Altitude:

1200 – 2000 MASL

Process:

Washed, Sugarcane EA Decaf

Varietal:

Castillo, Caturra, Colombia

Harvest:

April – June 2019

Partnership Length:

1st harvest

Sourcing Partners:

Café Imports (importer)
Decaf Cauca EA Cut Sheet

Download

(347K)