Bobbaasa, Ethiopia – Instant Coffee
$24.00 – $110.00
TASTE NOTES
blueberry jam, florals, grape candy, chocolate ganache, earthy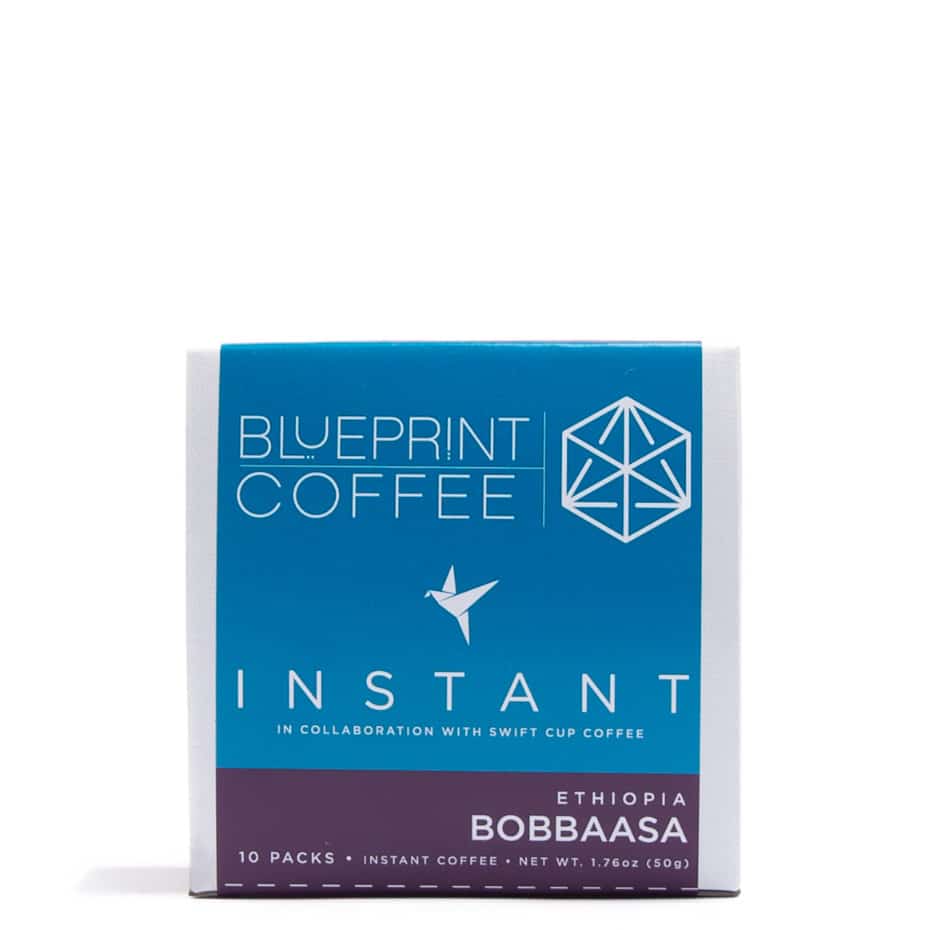 The feedback on our instant coffee, introduced in 2020, has been glowing, so we've decided to expand our offerings with the a rerelease of one of our favorite coffees: Bobbaasa, Ethiopia. We collaborated with Swift Cup Coffee to bring this offering to market. Just tear open a packet, mix it with about 10 ounces of hot or cold water, and stir. The resulting brew is the next best thing to a freshly brewed cup at one of our coffee bars.
Are you doing a double take at this product? That makes sense because most freeze-dried/instant coffee is absolutely terrible. That is because the worst of the worst coffee is used to make most of the products in the grocery stores. We have been tasting soluble coffee from other roasters and have been impressed with the results. Our R&D process was lengthy and we found the brewing and dehydration process used by Swift Cup offered the best representation of our coffees. 
SIZES, FORMATS, AND BUYING FREQUENCY
10-pack, 25-pack, and 50-pack boxes contain individually packaged servings in biodegradable sachets. Just rip one open and pour into a cup. Add your liquid, mix, and stir.
(We're discontinuing the 100g jars of instant coffee as they cost more, are prone to spoilage, and are made of plastic. The sachets are made of Biotre compostable material.)
The specialty instant Primary Series: Red is an amazing alternative to all those times when you can't get to a Blueprint Coffee Bar or you don't have your scale, dripper, and burr grinder with you. Some great situations for Blueprint Instant:
Camping
Smoothies
Cooking/Baking
Visiting your parents over the holiday…..(we see you 26-month-old can of store brand)
The office
A pack in the glove box for road trips
In your purse/bag for when you can't make it to the coffee shop before work
Tucked into a saddle bag to turn that water bottle into a cold brew along your century ride
On a long flight
Hotel rooms
ABOUT BOBBAASA, ETHIOPIA
In 2020, we shared an offering from Sookoo Coffee in Ethiopia named Bokkisa. Harvests from 35 farmers were represented in Bokkisa and its fruit-forward flavor profile made it a standout. We feel privileged to share a farm-specific lot from Sookoo Coffee this year, named for its farmer: Bobbaasa. Bobbaasa's farm is located in prime coffee-growing terrain at the top of a mountain, just down the road from the Dambi Uddo drying station and mill.
During an origin trip in February 2020, Bobbaasa graciously hosted one of our team members on his farm. They walked among the trees and spoke through a translator, named Balela. Bobbaasa explained that he receives a premium price for delivering fresh coffee cherries to Sookoo Coffee. Then, he earns a bonus payment 3 to 4 months after harvest based on the lot's quality and selling price. If his coffee is good enough and ample enough, it can be separated into a farm-specific lot such as this one, which earns an additional premium.
Sookoo Coffee (a name which translates to Gold Coffee) operates several stations throughout the Guji zone and southern Ethiopia. Mining of natural resources and minerals in the eastern Guji has led to significant deforestation. One of Sookoo's admirable goals is to provide both coffee and native trees to farmers in the area to help reforest Ethiopia.
Bobbaasa is a natural process coffee with a lush, heavy body. Anticipate a cup that is both sweet and fruity, with notes of blueberry jam, florals, and chocolate ganache.
TEAM TASTE NOTES
blueberry jam, florals, grape candy, chocolate ganache, earthy
Country:

Ethiopia

Region:

Shakkiso, Guji

Altitude:

2100 MASL

Process:

Natural

Harvest:

November – December 2020

Varieties:

Guji Local Landraces

Partnership Length:

3rd Harvest

Sourcing Partners:

Dambi Uddo (station), Sookoo Coffee (mill & exporter), Atlantic Specialty (importer)