Aristides Guarnizo, Colombia
$24.25 – $48.50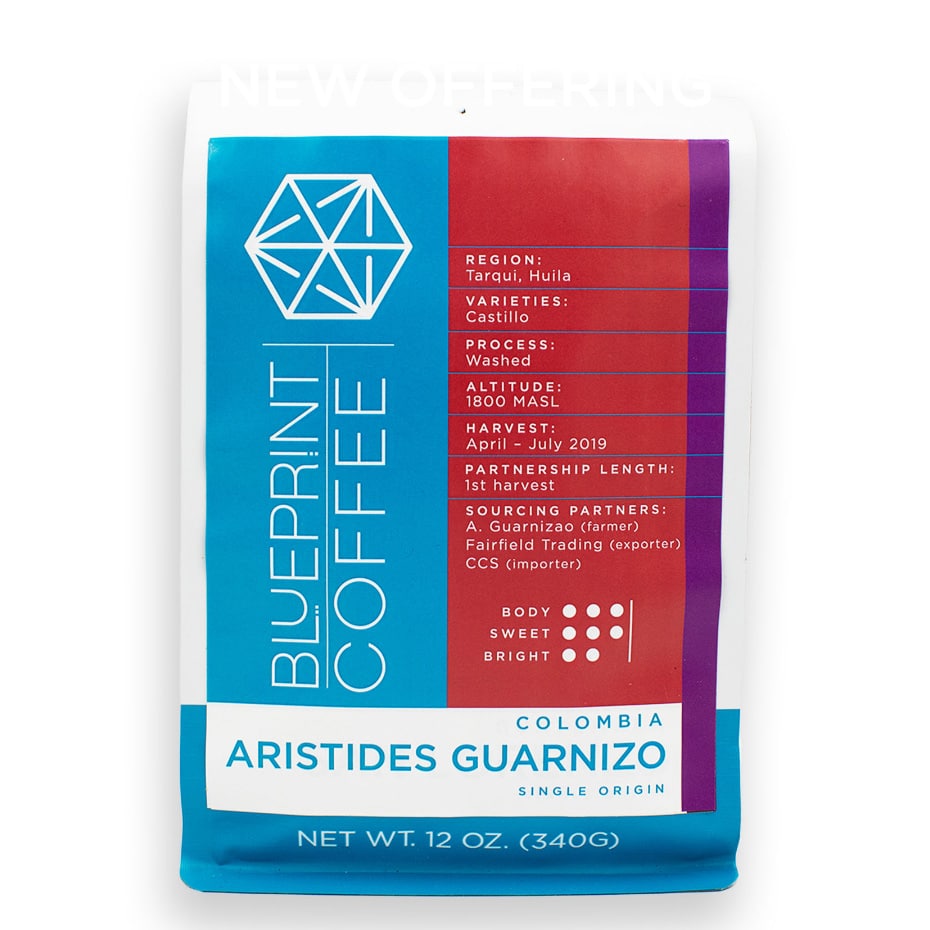 Aristides Guarnizo grows coffee near Tarqui, Colombia. His energy and passion emerge through the distinct tropical and creamy sweet notes present in this coffee. Farming technique and compost approach contribute extremely unique flavor qualities to this washed coffee.
TARQUI + FAIRFIELD TRADING
Tarqui is a small, yet progressive, town in southern Huila. The Andes mountains run through Colombia, splitting into three ranges that run north to south. Tarqui sits between the central and eastern ranges, in the Magdelena River Valley. Fairfield Trading's facility, located in this valley, provides an ideal location for year round harvest for growers near Tarqui, Huila.
Last year we traveled with Fairfield Trading Company to initiate a collaborative partnership in Colombia. Colombia boasts amazing and plentiful coffee farms. There is no limit to the potential of Colombia. This makes it a difficult place to choose and establish long-term partners. This year, we interviewed our importer and exporter to identify a partner we felt would fit with Blueprint Coffee's green buying vision. These conversations resulted in meeting the Guarnizo families. Their farms are located at 1800 MASL on the Cordillera Central. Further, we received an opportunity to learn more about how they approach farming and coffee processing.
THE BROTHERS GUARNIZO
The brothers, Aristides and Yaved, adopted the farming methods of Gustavo Ramirez Castaño. He uses an approach that incorporates a carefully managed anaerobic compost tea process. It intends to break down nutrients in order to assist in plant acquisition of nutrients. At first I was skeptical of this approach. However, upon seeing the health of the farms and tasting the results, I became more interested. What was even more surprising was how good the compost tea smells. Despite the use of compost and fresh manure in an anaerobic process, it has dried cherry bourbon and sweet vanilla smell to it. We expected something more putrid and offensive. The Guarnizo's take great care in managing their equipment and ingredients when preparing the compost tea, which is diluted, then applied to the farm.
This coffee comes from the farm of Aristides Guarnizo near Tarqui, Colombia. He is an energetic and passionate farmer who loves what he does. He says, "This is the fruit of my labor, and it's made with lots of love every day. The effort we put into our work is great, and we do it each day because we hope you will fall in love with our coffee." Follow him on Instagram @aristiguanizo
TEAM TASTE NOTES
mixed berries, Champagne, grape, lemon, pineapple, mango,
Country:

Colombia

Region:

Tarqui, Huila

Altitude:

1800 MASL

Process:

Washed

Varieties:

Castillo

Harvest:

April – July 2019

Relationship Length:

1st Harvest

Sourcing Partners:

Aristides Guarnizo (farmer), Fairfield Training (Exporter), CCS (importer)